Mrs. Hainsfurther
Welcome to Mrs. Hainsfurther's Page
Contact Information
Phone: 217-627-2419
Email: thainsfurther@northmacschools.org
Welcome to Fourth Grade Reading and Language Arts!
Mrs. Hainsfurther's Bio:
Bachelor's Degree-Illinois College
Teacher Education Program-University of Illinois Springfield
Masters Degree in Education; Curriculum and Instruction-Southern Illinois University Edwardsville
Passion-improving our students' reading/writing levels while inspiring life long readers and writers :)
Motto: Together let's inspire all students to learn how to learn through reading, and to develop a passion/love for great literature that will last a lifetime.
Did you know that research shows that reading OUTSIDE of class is the real ticket to academic achievement?
Please continue to encourage your child to read independently every day, or to partner read with you to complete the monthly AR requirement. The next due date for an AR novel is Tuesday, April 30th.

Wright Group Lead 21 is our reading series: "Transforming K-5 Literacy Instruction for 21st Century Classrooms"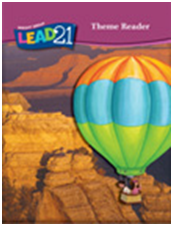 The first week of school students took the Lead 21 Group Placement Assessment. The result of this comprehension assessment allowed your child to be placed in a group with students who are reading at the same level; thus reading content is differentiated to meet the needs of students reading and comprehending at different levels. As the year progresses students are assessed and moved when appropriate.
We use theme readers (textbooks) for whole group instruction, differentiated readers (leveled books) for small group instruction, novels, Scholastic News, and the Promethean board/research to extend our learning. Reading outside of class and using additional resources are both stressed daily.
The theme throughout NMIS for Unit 7 (Social Studies) is Government and Citizenship. In fourth grade the focus of our reading content is "The Wide-Open West." Students will read about the Mountain and Pacific states.
We have enjoyed a prosperous year of reading, reading, reading!
Success with reading provides the foundation for learning. Please take every opportunity to model reading for your child, read aloud to your children, listen to them read, and encourage independent reading along with critical thinking discussions between you and all of your children. Someday they will thank you.

Fourth grade students will also write for many purposes. We will follow the Common Core State Standards for English Language Arts to empower students to become independent readers, researchers, note takers, writers, listeners, speakers, and critical thinkers who confidently approach and respond to Literature, Social Studies, Science, and global questions. Mrs. Hainsfurther loves for students to write because it deepens comprehension and prepares students for a successful future!
4H HOMEROOM SCHEDULE
Monday-Friday
8:15-10:15 & 1:30-2:00 Language Arts (Reading, Writing, Spelling) in homeroom
10:15-11:15 Science and Social Studies with Mrs. Roesch
11:15-12:00 Lunch and Recess
12:00-1:00 Math with Mrs. Mulacek
2:00-2:30 FLEX
2:30-3:00 Band/Study Hall
Specials:
9:05-9:30 PE Daily
1:00-1:30 Library/Computers Monday and Wednesday, Music Tuesday and Thursday, Art-Friday
CLASSROOM EXPECTATIONS
1. Safety
*Keep hands, feet, and other objects to yourself
*Keep all materials clear of walkways
*Rotate in an orderly fashion
2. Respect
*Act as a positive role model for your classmates
*Treat everyone as you would like to be treated
*Stay positive, use appropriate language and manners
*Keep your work area orderly and clean
*Stay on task and read/work until teacher dismisses you
*Do not distract your peers while they are trying to learn
3. Responsibility
*Record all assignments in your agenda daily
*Come to class prepared with all materials
*Be punctual
*Turn in assignments on time with your name on your work and your best effort put forth