Freedom of Information Act
Description and Summary of the District
The North Mac Community Unit School District No. 34 is located in Macoupin, Montgomery and Sangamon counties in Illinois. After a consolidation election, the former Virden and Girard school districts joined forces on July 1, 2010 with a firm commitment to provide a quality educational experience for all students while still remaining true to their Midwestern small town values and beliefs.
The District maintains the North Mac Elementary (PK-2) in Virden, North Mac Intermediate and Middle School (PK, 3-8), and North Mac High School (9-12) in Virden to house a student enrollment of just over 1,500 students. District Offices are housed in the South Campus facility located in Girard. North Mac is a fully recognized and accredited district in the state of Illinois with a current annual operating budget of approximately $12.6 million. Just over 213 full and part-time staff members provide student services in the District.
Students enjoy class sizes smaller than the state average, curriculum aligned to the new Illinois Learning Standards, safe and positive classroom learning environments, highly qualified and fully certified teachers, and many opportunities to participate in a full range of extracurricular activities, sports and clubs.
The 7-member North Mac Board of Education governs the District. Members of the Board are Robyn Hays, President; Charles Handy, Vice President; Jeannie Alexander, Secretary; Farley Cole; Dan Nichols; David Spann; and Teresa Lutz-Worth. In addition, community organizations and members strongly support the overall success of the schools. North Mac is a member of the Sangamon Area Special Education District, the Capital Area Career Center, and the Regional Office of Education #40 to provide additional offerings and supports for students.
More detailed information about individual schools, the Board of Education and district policies, procedures and employment vacancies is available may be found on the District website.
North Mac CUSD No. 34 also will make public records available for inspection and copying. If requested, public records will be mailed.

North Mac CUSD No. 34 offices are closed between Christmas Eve and New Year's Day.
District Subdivisions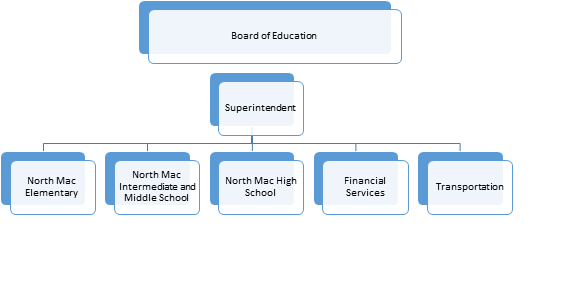 Fee Schedule for FOIA Requests
No fees shall be charged for the first 50 pages of black and white, letter or legal sized copies requested.
Thereafter, a fee of $0.15 per page will be charged for each additional black and white, letter or legal sized copy.
For all other copies, including color copies, the District shall charge no more than the actual cost for reproducing the records.
The District may charge the requester for the actual cost of purchasing a recording medium, whether disc, diskette, tape, or other medium.
The cost for certifying a public record shall be $1.
Public records may be furnished without charge or at a reduced charge if the individual requesting the public records states specifically the purpose for the request and the reasons that a waiver or reduction of the fee is in the public interest. Waiver or reduction of the fee may be determined to be in the public interest if the principle purpose of the request is to access and disseminate information regarding the health, safety, and welfare or the legal rights of the general public and is not for the principal purpose of personal or commercial benefit. In determining the amount of waiver or reduction, the District may take into consideration the amount of materials requested and the cost of copying them.
Categories of North Mac CUSD No. 34 Public Records
As required by 5 ILCS 140/5
The following list identifies the types of public records maintained and available for public inspection:
administrative materials and procedural rules
final opinions and determinations, except for those adjudicating student disciplinary cases where the disclosure would unavoidably reveal the identity of the student, or those adjudicating employee grievances or disciplinary cases
final outcomes of employee grievances or disciplinary cases in which discipline is imposed
Board of Education policies and final documents explaining or interpreting such policies
final reports and studies prepared by or for the District
information concerning expenditure of public funds, unless otherwise exempt from disclosure under FOIA
names, salaries, titles, and dates of employment for all district employees and officers
Board of Education open meeting minutes
information concerning grants or contracts made by the District, unless otherwise exempt from disclosure under FOIA
all other information required by law to be made available for public inspection and copying
List of Documents or Categories of Records that North Mac CUSD No. 34 Will Immediately Disclose Upon Request
As required by 5 ILCS 140/3.5(a)
Board of Education policies
Board of Education open meeting minutes for current year
Board of Education meeting dates and agendas for current year
Annual levy resolution
school calendar
school report cards
collective bargaining agreement
budget for current year
academic handbooks
Requesting Public Records or Documents
Direct Freedom of Information Act (FOIA) requests to FOIA Officer - North Mac Schools.
To request a public record or document:
1. Submit request in writing by personal delivery, fax, email, or mail.
FOIA Officer - North Mac Schools
525 N. Third Street
Girard, Illinois 62640
FOIA@northmacschools.org
Fax: 217-627-2915
2. Specify if the information requested is for a commercial purpose.
3. Pay any required fees in advance if known.